Early on one Christmas Eve
When Santa was getting ready to leave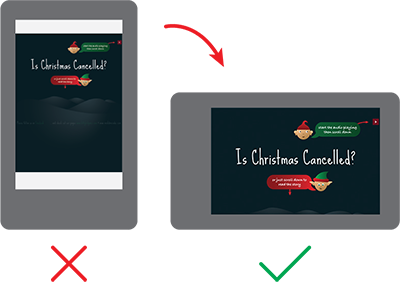 Something happened that made him frown
A very heavy fog came down
"Oh no" he said "Oh dear! oh dear!
It's gone and happened again this year
And the weather report says heavy snows
What would I do without Rudolph's nose?
We will all rely on his assistance
So we can see into the distance
For another year, with his nose so bright
Rudolph will guide the sleigh tonight"
The elves and pixies worked hard all day
Loading parcels onto the magic sleigh
The reindeer grazed on the nearby green
But Rudolph was nowhere to be seen
Found snoozing in a nearby stable
Poor Rudolph said "I'm just not able
Dasher! Dancer! Please - go tell
The others that I am unwell"
All of the reindeer got such a fright
As they exclaimed "oh what a plight
How will we know which way to go
If we can't follow Rudolph's glow?"
A meeting was held with much debate
And it was decided that they should not wait
They interrupted Santa's cup of tea
To inform him most immediately
"Oh Santa you just must be told
That Rudolph has a frightful cold
Oh Santa I'm afraid it's so
Rudolph it seems has lost his glow"
"He's lost his glow? I don't believe it
He absolutely must retrieve it"
But poor Rudolph could only weakly cough
His red nose blinking on and off
A vet was called for his inspection
And instantly gave the flu injection
But then pronounced "I do suspect
It's far too late to have any affect"
"Have you tried a shot of Whiskey?"
"Oh no" said Santa – "Far too risky!
You know DRINK DRIVING IS NOT ALLOWED
He could crash us straight into a cloud"
Rudolph said "I just need to sneeze
But my poor snout has started to freeze
If only I could have a good blow
I'm sure my nose would start to glow"
"Well" said Santa "I feel bad
It will make all children really sad
Parents they will moan and groan
But Christmas we just must postpone"
So Santa rang a TV station
To inform them of the situation
He then composed a sad email
To communicate this woeful tale
And so there was a WORLD NEWSFLASH
To inform everyone – Santa's sleigh could crash
"It's far too dangerous tonight
Santa's sleigh can't fly without a light"
The snow was heavy, flakes swirled and twirled
As the sad news spread around the world
To cancel Christmas on Christmas eve
Terrible news – that was hard to believe
The whole world had a heavy heart
But one little girl was really smart
She crossed her fingers and her toes
Clever little Eva Rose
As her Daddy put her to bed
She smiled at him and then she said
"Wishful Thinking Wishful Thinking
Please let Rudolph's nose stop blinking
Wishful Thinking Please Please Please
Let Rudolph have a great big SNEEZE"
Close by at the time was Fairy Nuff
Who heard it and thought this is Powerful Stuff
To carry a wish on a Fairy's wings
Might just achieve incredible things
So briefly Fairy Nuff did appear
And whispered into Eva's ear
She said "keep wishing on a star
And I will carry your wishes far"
She kept exactly to her word
And next thing many children heard
Carried on Fairy wings and a breeze
A chant to help poor Rudolph sneeze
I think it was at least a million
Who knows it could have been a billion
As they all looked up at the stars and the moon
All the children chanted in tune
"Wishful Thinking Wishful Thinking
Please let Rudolph's nose stop blinking
Wishful Thinking Please! Please! Please!
Let Rudolph have a great big sneeze"
All around the world children joined in
In the end it made an inCREDIBLE din
It was heard by Koalas in Sydney Zoo
By Tigers and Lions in Africa too
It woke a grizzly bear on a Canadian mountain
And startled the fish in the Trevi fountain
A little girl's wish - on a Fairy's wings
Was truly achieving SPECTACULAR things
Like a hurricane the chant did roll
Making its way right to the North Pole
As it calmed down to a gentle breeze
It tickled Rudolph and made him sneeze
A sneeze that started in his toes
Rumbled through his body and escaped through his nose
So loud it gave him such a fright
And for a moment made the whole world bright
And that was when all children knew
That Rudolph's nose had finally blew
Childrens' wishes had overruled
And Christmas day was rescheduled
Santa was filled with pure delight
As Rudolph's nose shone twice as bright
He clambered up on top of the sleigh
And next thing you know he was on his way!!!
Happy Christmas Everyone!!
This story was written by new and upcoming children's author, Kitty K. Illustrations and animation are by graphic designer, Mick McCabe. Narration is by Paddy Kilgannon, Kitty K's lovely brother. To everyone involved - a big Christmas THANKYOU!
Expect lots more stories from Kitty K in the new year, with illustrations by Mick McCabe and Paul Pickersgill. Keep an eye on our work by following us on Facebook, or on the Kitty K website.
Don't forget to us (if you do!)
www.kittykrhymes.com www.mickdmccabe.com
Copyright © Kitty K and Mick McCabe 2014
Play the story again